Black Velvet Band Ceilidh Trio – The Best in the West!
Two classic ingredients are needed to create an unforgettable wedding ceilidh or barn dance – exciting music and a fun dance caller who involves all the guests.  With two decades of experience under their belts,  Black Velvet Band specialises in providing both with an interactive and enjoyable style that is guaranteed to make your party a great success.
Ceilidh, Barn Dance or Hoedown? Versatile professional musicians from Black Velvet Band can give you exactly what you want.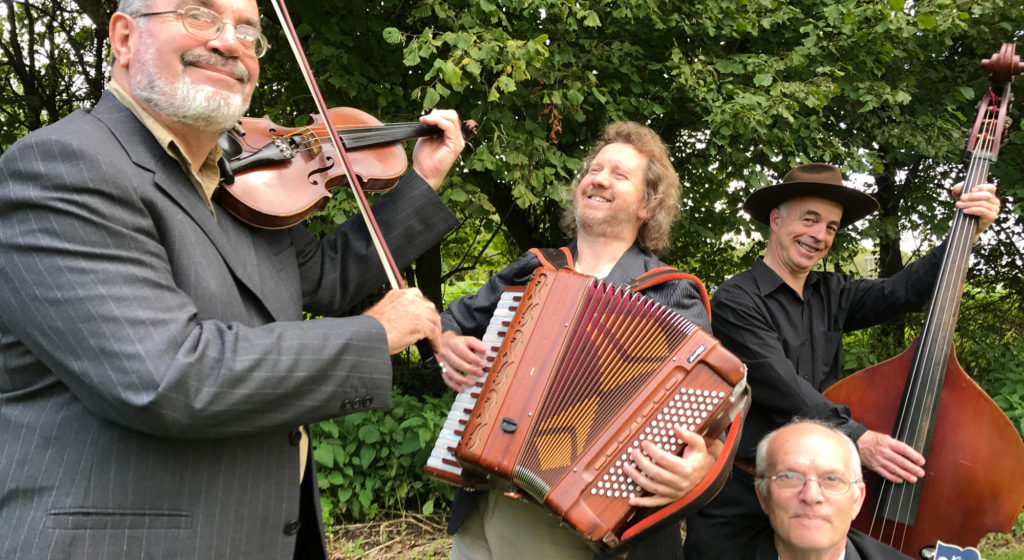 American Wild West Hoedown - Scottish Burns Night - Wedding Barn Dance - Irish Ceili - Gypsy Jazz ... You choose the style. Skillful musicians from BVB will make it happen!
Black Velvet Band Hillbilly Hoedown Band  performs a mix of down-home country songs and jigs and reels played bluegrass style with hoedown-style barn dancing. The band dresses cowboy style and brings a dance caller. The perfect combination for a Wild West Night!
Black Velvet Band Scottish Ceilidh Trio  provides an excellent Scottish style ceilidh!  The caller will intoduce easy dances at the beginning, so that ceilidh newbies don't feel left out, but will make sure that Scottish favourites like  "The Gay Gordons",  "The Dashing White Sergeant" and "Strip the Willow" are all included.
No Irish Ceili is complete without "The Siege of Ennis" and "The Bridge of Athlone"! Black Velvet Band Irish Ceili Trio will make sure that these dances are included, along with all the best Irish songs and tunes.
If you have no special preferences regarding style, the Black Velvet Band Ceilidh Trio will put together a delightful mix of fun dances and music so full of life that toes tap and you can't keep still.  You can be sure of a full dance floor all night.
The band carries all the equipment needed for a full evening of entertainment including a high-quality PA system suitable for any venue The guys  will dress to suit the theme of your event –  checked shirts and jeans for Wild West Hoedowns and tartan bow ties and cummerbunds for Scottish Ceilidhs, for example.
The band also offers an additional DIY Disco option @ £60.00 an hour.  The client puts together a play-list on phone or computer for the band to play through the PA.  Additionally, if you have any specific song requests or want to go through any minor details beforehand don't be afraid to ask –  the band will be happy to help.
Whether it is a Scottish Ceilidh, an Irish Ceili, an English Barn Dance or an American Hoedown Black Velvet Band is the band for you. With a flexible line-up of talented and experienced musicians and an engaging dance-caller, you can look forward to an excellent evening's entertainment.
Want to find out more and check availability? Fill in the form below ....