African Drums and Dance – The Spirit of Africa!
Planning an African themed wedding or a Safari themed corporate event?  African drums and dance – at times hauntingly beautiful and at other times irresistibly danceable – brings your theme to life. Add costumed traditional dancers to create an unforgettable performance spectacular.
The very name 'Africa' summons up vivid imagery of a vast and diverse continent. The wild joy and excitement of African drums and dance brings the heat and light to life at your party.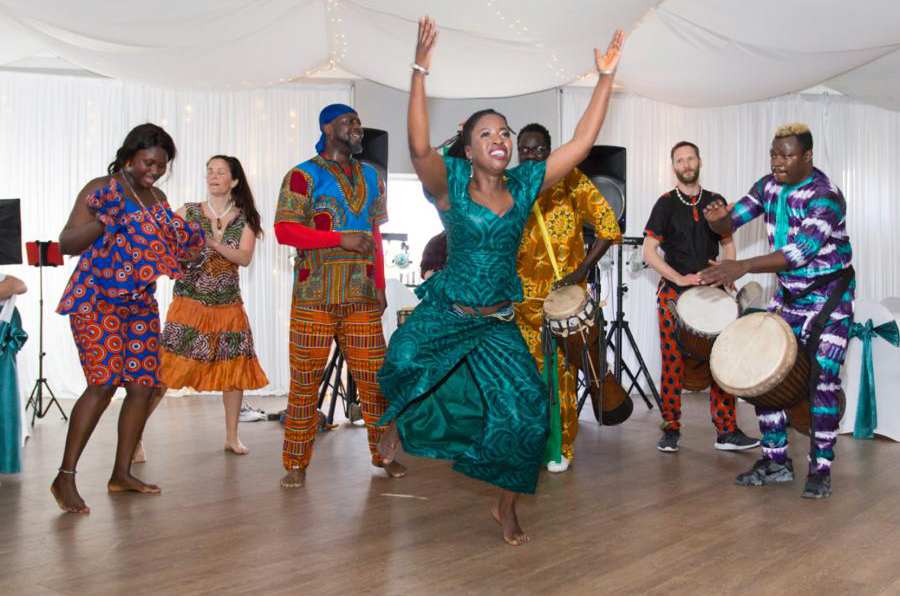 Africa is the never-ending savannah teeming with wildlife and scorching, inhospitable desert lands punctuated by life-giving oases eventually yield to rich, luxuriant farmland south of the tropical regions.
It is the cradle of human existence, sustaining life and lifestyles virtually unchanged for thousands of years. It presents a wonderfully rich, colourful culture, perfect for an exotic wedding or party theme, and loads of inspirational ideas for other types of celebration.
Vibrant djembe drumming, exciting acrobatic dance and soulful singing … the spirit of African is perfectly expressed in this unique combination of music, song and dance.
Song, with haunting melodies overlaying sometimes complex inner rhythms, is the heartbeat of African culture. It appeals to the head, the heart and the hips, and dance features strongly as an essential component within the overall experience. At a more fundamental level than with many other cultures, music, story and dance continue to carry an important ritual significance.
The African musical experience is an intricately balanced fusion of rhythm, harmony and melody. It is energetic and joyful mix of movement, music and song.
In many people's minds, African music is primarily associated with rhythm. Drums and other percussion instruments figure strongly at the forefront. However this is far from a true or complete picture.  A variety of melodic and harmonic instruments, including the n'goni and the marimba, provide added texture, harmony and colour to the principal melody.
The kora and djembe provide the essence of traditional African music. The effect of this combination is enchanting and can be utterly mesmeric. Kora and djembe alone can provide exotic background music. Augment with further instruments – then add colourful costumed traditional dancers to create a riveting, spectacular display!
An acoustic performance by a group of African drummers and dancers is the perfect choice to surprise and delight your guests at a special celebration.  If the weather is fine, the performance can take place out of doors.
Want to find out more and check availability? Fill in the form below ....