Caribbean Steel Pan: Perfect Beach Wedding Music
A Caribbean steel pan band is the perfect choice for a beach wedding. What could be better than the happy-go-lucky holiday steel pan vibe to set the scene and get an informal wedding celebration off to a flying start?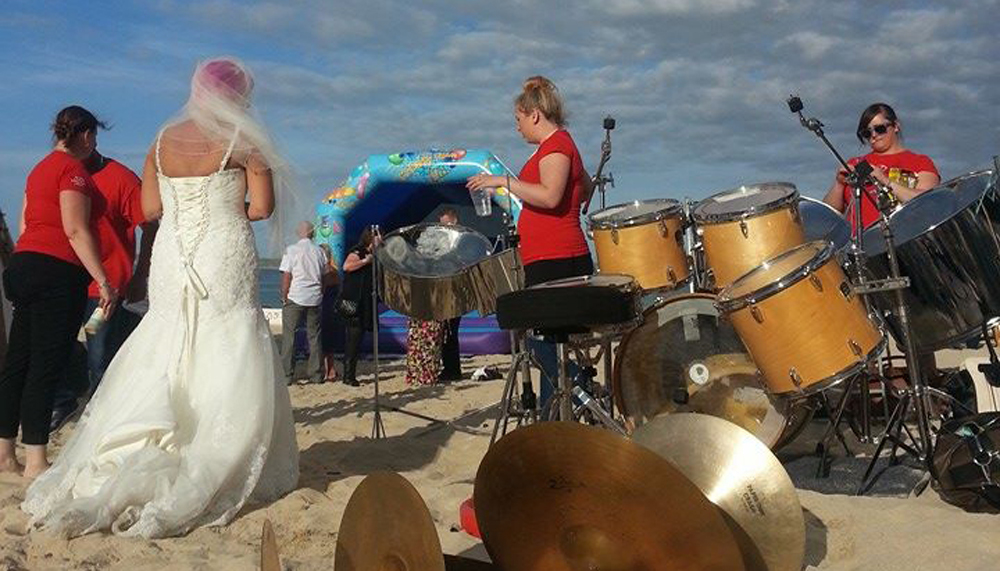 A beach party theme suggests carefree fun, far removed from the day-to-day hassle of modern life.  Sun, sea and sand create an ideal setting for a relaxed informal celebration.  A delicious barbecue with exotic cocktails will set the scene nicely, even if you're miles from the nearest beach!
For musical entertainment, a West Indian steel band is the obvious choice. A delightful mix of Calypso, Ska and Reggae creates a happy-go-lucky carnival atmosphere that is guaranteed to bring a smile to every face.
A Caribbean steel band creates a happy carnival feel.  It is mood music. It provides an ideal background for a wedding drinks reception.  The music is not loud enough to intrude, but sets the scene, enhancing the happy mood of the bride and groom and their guests.
The sunshine sounds of a steel pan band effortlessly conjure up the holiday feel of a Caribbean beach-party or carnival. Even if the weather is not fully cooperating, a sense of carefree, sunshine abandon will cheer everyone up and encourage your guests to chat.
Want to find out more and check availability? Fill in the form below ....