All you need to know about Scottish Ceilidh
The ancient tradition of ceilidh is still strongly maintained in Scotland and The Isles.  It is the entertainment of choice, especially at weddings, from Berwick to Kirkwall and beyond. A Scottish ceilidh is an unbeatable finale to a wedding celebration.

Ceilidh dancing is inclusive, interactive and great fun. At a typical wedding party, there will be groups of people who may never even have met before. Ceilidh is an unbeatable icebreaker. Everyone laughs and smiles, joining together in the dance.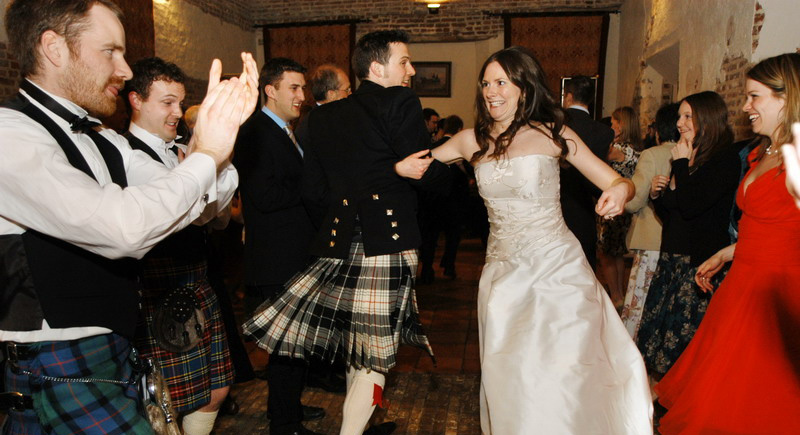 Ceilidh is a Gaelic term that literally means 'visit' but nowadays a ceilidh is a session of Scottish-style country dancing. Historically, the 'visit' in question might have been anything from a family betrothal or wedding to a full gathering of the clan. Celebration is the common thread and dancing remains an integral part of any Scottish family party.
There is a rich repertoire of traditional Scottish ceilidh dances. Reels, hornpipes, strathspeys, jigs and other set-dances each have their own particular tunes. There is an equally vast repertoire of music to go with the dances.  The tunes and dances have been handed down from father to son over countless generations.
The typical line-up of a Scottish ceilidh band usually includes a piano-accordion, fiddle and a stripped down drum kit. It is the distinctive sound and texture of the accordion that gives this line-up its signature 'Scottish' flavour.
In Scotland where the tradition is unbroken, the favourite dances at a ceilidh are so familiar as to not require any supervision – everybody just gets on with it! Elsewhere, however, this is not generally the case, so the musicians will include in dance-caller who will explain and demonstrate the steps for each dance before the music begins.
You don't necessarily have to be a Scot, or even in Scotland, to enjoy a Scottish Ceilidh. It really doesn't matter if nobody at your party has ever done it before – besides, tripping over each other's feet and getting it wrong is all part of the fun!
If you hold a Scottish ceilidh in England, it's likely that a fair number of the guests will never have danced ceilidh before.  The caller will include easy dances to give the ceilidh newbies confidence, but will soon have everyone dancing 'The Gay Gordons', and of course will be sure to include 'Strip The Willow'.
Want to find out more and check availability? Fill in the form below ....