Six Great Live UK Christmas Party Entertainment Ideas
Looking for ways to add seasonal festive fun to your Christmas party? Live music is a brilliant way to create that extra special Christmas feeling. Here are six Christmas party entertainment ideas that will make your party really memorable

1. Hire REAL Christmas carol singers!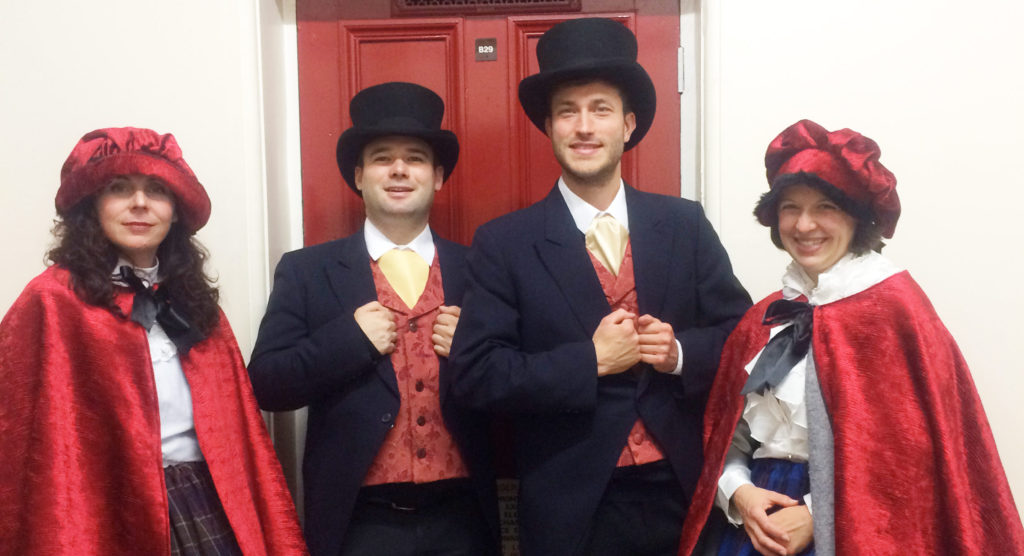 The London Carol Singers are a group of professional singers with an comprehensive repertoire of traditional Christmas carols and popular Christmas songs. For period festive atmosphere, the group dress in immaculate costume complete with top hats as Victorian Carolers and sing traditional carols, bringing the magical spirit of a Dickens' Christmas to your event.
Alternatively the group appears in overcoats, hats and scarves as present-day carol singers, performing a mix of popular Christmas songs and traditional carols. The a-capella ensemble is happy to perform concert-style or to stroll round the room. The performance is unaccompanied and can take place out of doors if conditions permit.
2. Have a Carnival Christmas with a New Orleans Trad Jazz Band
Create a Christmas carnival atmosphere with a strolling New Orleans Trad Jazz Band. Add Christmas hats and spice up the Trad Jazz repertoire with Christmas favourites played Dixie-style. Acoustic Trad jazz quartets are available for hire around the UK.
Trad Jazz bands can perform strolling round the venue – and can also perform outside, weather permitting.  It's an excellent way to add festive atmosphere to a Christmas market or shopping precinct! Watch Southampton based Al Fresco Trad Jazz Band:-
3. Book the Strolling Santa Brass Quartet or Quintet
London-based Premier Brass presents the strolling Santa Brass Quartet or Quintet. The musicians dress in Santa  style! The band has a huge repertoire of classical Christmas music, traditional carols and popular modern Christmas classics and will stroll among your guests, entertaining them with Christmas fun.
The band is acoustic, so no electric power is required. The group is equally at home strolling round a ballroom or parading in a shopping centre – or even leading as Christmas procession!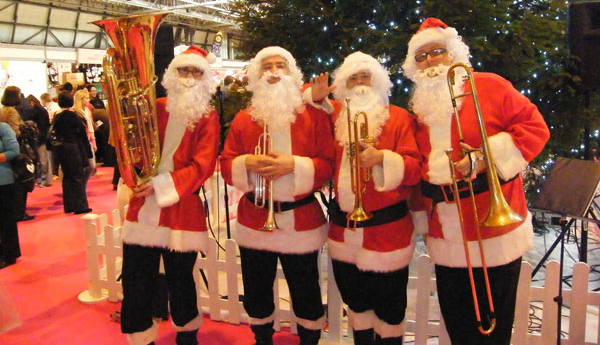 4. Celebrate Christmas Caribbean Style
Make your Christmas "Hot Hot Hot" the Caribbean way by booking a Christmas steel band Duos, trios and full bands are available around the UK. Dressed in Christmas jumpers and hats, a steel band will include popular Christmas tunes played with a reggae twist in the repertoire.
A steel pan duo or trio is a great way to invoke the Christmas spirit at a Christmas market or an Xmas shopping event.
5. Have Yourself a Merry Vintage Christmas
What about a Vintage Christmas?  Vintage 1930s and '40s singing trios appear in festive costume and present special glamorous Christmas shows that include vintage swing versions of your favourite Christmas classics.
6. Party with a Christmas Ceilidh or Ho, Ho Hoedown
Celebrate Christmas American Country style with a Ho, Ho Hoedown.   Debi Hall and The Honky Tonk Angels present a brilliant Christmas show with Wild West zest. Line dance caller Debi fronts the show dressed in a cute Santa suit and the band mixes popular Christmas songs performed country-style with the usual down-home repertoire.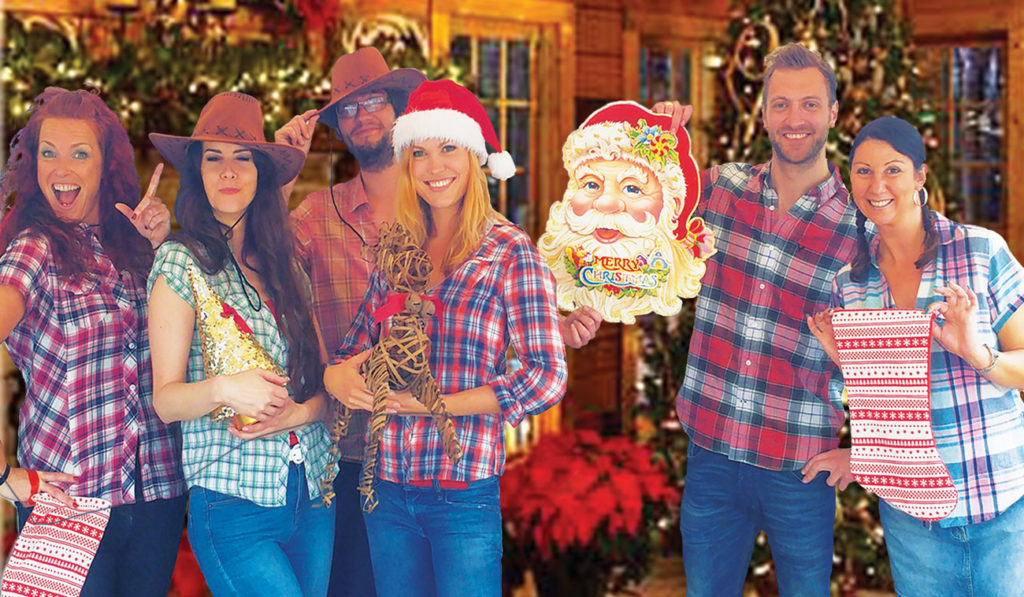 If you like traditional music, you will enjoy a Christmas Ceilidh! Jase and Mike from Black Velvet Band Christmas Ceilidh Trio have set lots of traditional carols and popular songs as dance tunes, presenting an original take on traditional Christmas fun. Your guests can play "Name That Christmas Tune" as they dance. The band, of course, dress in their best (or worst) Christmas jumpers and Santa hats!
Live music is one of the best ways of creating atmosphere at a party and it is an ideal way to bring the magic of Christmas to an office Christmas party, Christmas market or Xmas themed event.  To see more of these musical suggestions in action take a look at the Hop Till You Drop Christmas YouTube Playlist – YouTube: Christmas Music Ideas in the UK
Want to find out more and check availability? Fill in the form below ....