Strings Bollywood and Sitar Fusion – Sounds of India
From classical ragas to modern Bollywood song, Strings presents the best of the sounds of India, from ancient times to the present day. Whether you want a sitar and tabla duo to provide background music for a small drinks reception or a full festival-style band with dancers, Strings can fulfil your requirements.
Bollywood has taken over from Hollywood as the world's most popular genre of cinema. Bollywood films are famous for their set piece song and dance spectaculars and the songs from the films have become as familiar as the films themselves.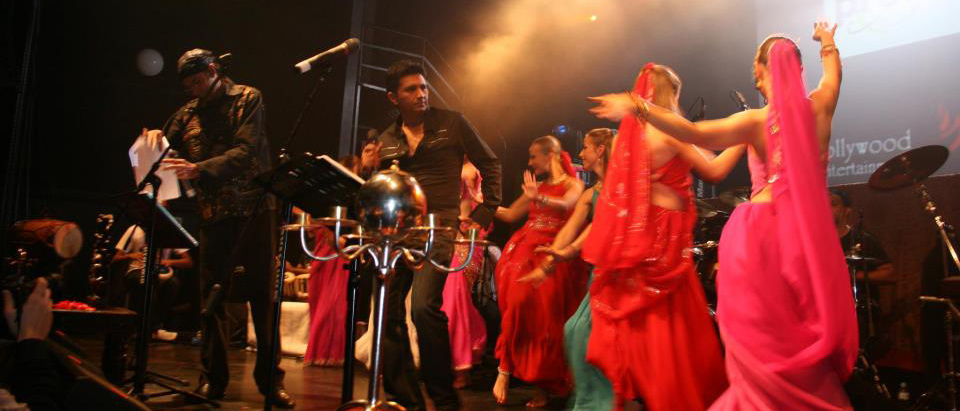 Strings Bollywood Band is one of the foremost exponents of the genre in the UK.  The band has an international reputation and performs around the world – from Trafalgar Square, London to Red Square, Moscow!  Dressed in colourful traditional costume, Strings Bollywood Band presents the best of Bollywood, mixed with songs from other popular musical genres, such as Gujrati and Bhangra.
The line-up is keyboard, drums, bass guitar and Indian percussion, fronted by either a male or female vocalist. The band can also include a troupe of dancers, gorgeously dressed in traditional costumes to provide an onstage song and dance spectacular to rival the Bollywood movie experience. Find out more about booking Strings Bollywood Band
Strings Sitar Fusion can also provide a semi-acoustic band for smaller events, such as drinks receptions. The band plays a mix of ancient and modern music, including music from the Indian classical repertoire, folk tunes and Bollywood classics.
The performance can be purely instrumental – an acoustic sitar and tabla duo is available for small intimate parties.  For larger events, the duo can be augmented with keyboard and flute and can bring a small PA system to boost the sound.  The group can also add male of female vocal if required.  All the performers will come dressed in traditional Indian costume. Find out more about booking Strings Sitar Fusion Band
Strings Sitar Fusion and Strings Bollywood Band present both ancient and modern Indian music at its finest.  The group was founded in 1994 by Anuradha Shukla and Kiran Thakrar, Kiran is an international musician and producer and Anuradha is one of the most popular Indian vocalists in the UK.
Want to find out more and check availability? Fill in the form below ....